William Kage New Super Nintendo Music In The Style Of The Classics!
Happy New Year to all our readers for 2013!. This is our first official post of the New Year so I decided to start the year off with a cool find. I was looking for SNES Chrono Trigger music on youtube months back to hopefully find a new remix a fan did when I stumbled on William Kage's newly home sampled SNES music. I really enjoyed his Chrono Trigger tracks and found out he did plenty more with a whole album released called Halfont. You can check out more at the official William Kage home at www.williamkage.com. So many tracks I can choose to show you but here's a cool one:
These aren't remixes, they're newly sampled which is a cool idea. I'll let William explain more how he makes the music:
"The simulated sounds of musical instruments produced by the Super Nintendo are very distinctive to those who grew up with them. In particular, games that told lengthy stories, such as Chrono Trigger and Final Fantasy VI, made excellent use of these sounds. The "instruments" are very small, and very simple. However, the SNES and its beautiful Audio Processing Unit (APU) can employ looping, vibrato, panning and echo to expand this sound considerably. Because that clip is the result of APU features, it requires less than 6 kilobytes (!) of data. Things like pitch, tempo, track, and so on, are all very small mathematical instructions carried out by the APU. With just a few clicks of my mouse, I can plug that 5KB sample into my DAW and give it the same kinds of instructions to produce a very similar sound."
Right now you're able to by the first release of his work at: http://music.williamkage.com. Some of the sampled work is from Chrono Trigger, Earthbound, and Final Fantasy. The cool thing is yo can buy the box set which comes with:
- Digital copy of the album
- CD copy of the album
- SNES Box (sealed & tagged)
- Cart (bagged w/caddy)
- Instruction Manual
- World Map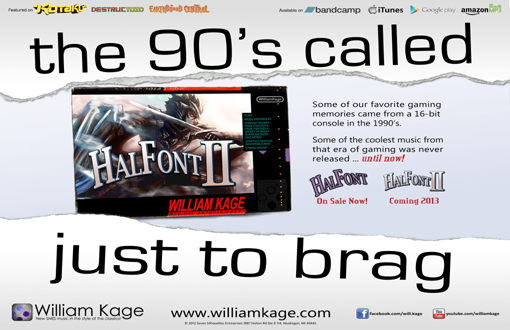 The second release of Halfont 2 is coming soon in 2013 which I'm also going to pick up. Above is a promotional poster for the second release. I bought two copies of the first Halfont box set. One for my brother as a Christmas gift, and one for myself. I'm a fan of William's work because it really is the sounds of the 90s games I loved. William's work is also available on iTunes, Amazon, Google Play, but is much cheaper on his official homepage. If you missed the link above you can visit his work here
http://music.williamkage.com
.